We at Pixels Dubai offer best and easy printing of roll ups banner in Dubai. Roll Up banners are easy to use portable stand that are used to advertise and display ones business at various fairs, events and in stores. It is an excellent tool for communicating message at a exhibition fair.
Roll up Banners come with a carry case and are easy to transport and put up. A roll up banner  can pop up and display a message over a set period and when you are done with it, you can roll it away and store it safely for transportation to your next big event.
Roll up banners can be designed to meet a range of practical and aesthetic needs from outlining your personal branding, to boosting your corporate event. At Pixels Dubai we are going to help you get to know these creations a little better. We at Pixels Dubai offer easy and convenient roll ups banner making and can b made in a wide variety of material and sizes as per the requirement.
Types of Roll ups we provide:
Standard Roll up banner (With lamination & without lamination)
Broad base Roll up Banner (With lamination & without lamination)
Fabric Roll ups .
Types Of Roll-Ups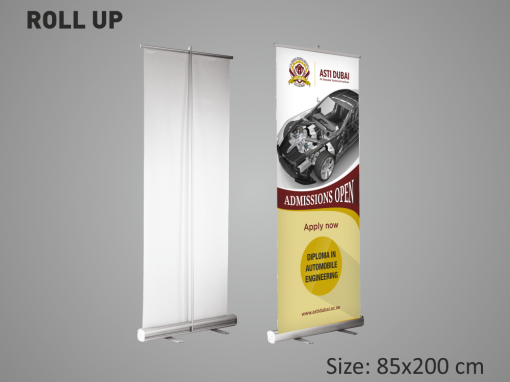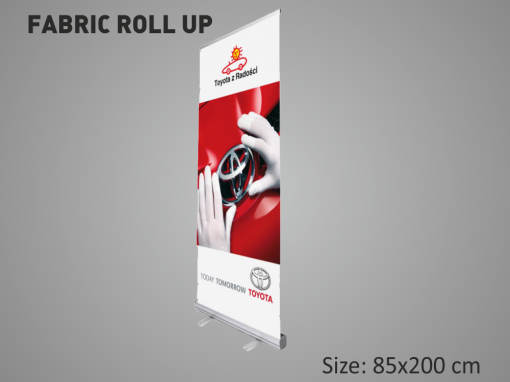 Roll up banner Supplying Artwork:
* Standard artwork size: 85 x 200cm (no bleed required).
* The top 15mm will be hidden behind the top edge of the Roll Up frame.
* The bottom 50mm will be hidden inside the base of the Roll Up frame.
* Safe area: No important content should be placed within 50mm from the top edge, or within 100mm from the bottom edge.
Artwork and File Type.
PDF or Ai with fonts embedded/outlined.
Any graphics should be high resolution.
Color should be CMYK
Turnaround Time
Roll Up Banners can be produced within 24 hours assuming artwork has been supplied correctly.